Designing Your Shower Area
Here are a few design tips in designing your shower area
Design your shower
Ventilation
When you give us your overall dimensions you will need to consider ventilation. We recommend that you leave a minimum gap of 50mm above your door to allow steam / air to escape. If you have an internal shower extractor fan then this may not be the case but will be something that is decided on site. You may have a window or extractor fan close to your window and may feel a small gap is necessary. Or it may be the case your fan or window is some distance form your shower area, either way you will have to decide what height you need the glass to be.
Positioning
Be aware of any obstructions that could affect the movement of the door. For example ensure the door when opening is not going to hit a loo or bathroom basin. The great advantage of have a bespoke door built is that your have control over the positioning and size of the door or enclosure.
False Walls
Think before you build a false wall. It may be the case that using glass instead of building a false wall could be a better solution both time, cost and design wise. Using glass can also create much more natural light into both the shower area and bathroom.
Dimensions
Always give us your overall dimensions after you have tiled, otherwise your dimensions can change by more than 30mm, depending on tile thickness and adhesive used. Another important tip is to always leave a gap of at least 10mm to the edge of your shower tray. This can vary depending on the type of tray you have in place. When you give us your dimensions you need to give us the overall dimensions of the outside edges of the enclosure OR the total width of the shower door. We will work out the tolerances of the hinges and seals, you will need to work the height of the glass AND the overall widths.
Tray Design
We have seen this design multiple times and on occasions the wall overlap is under 20mm and we do not have compatible hardware to use if the wall overlap is under 20mm.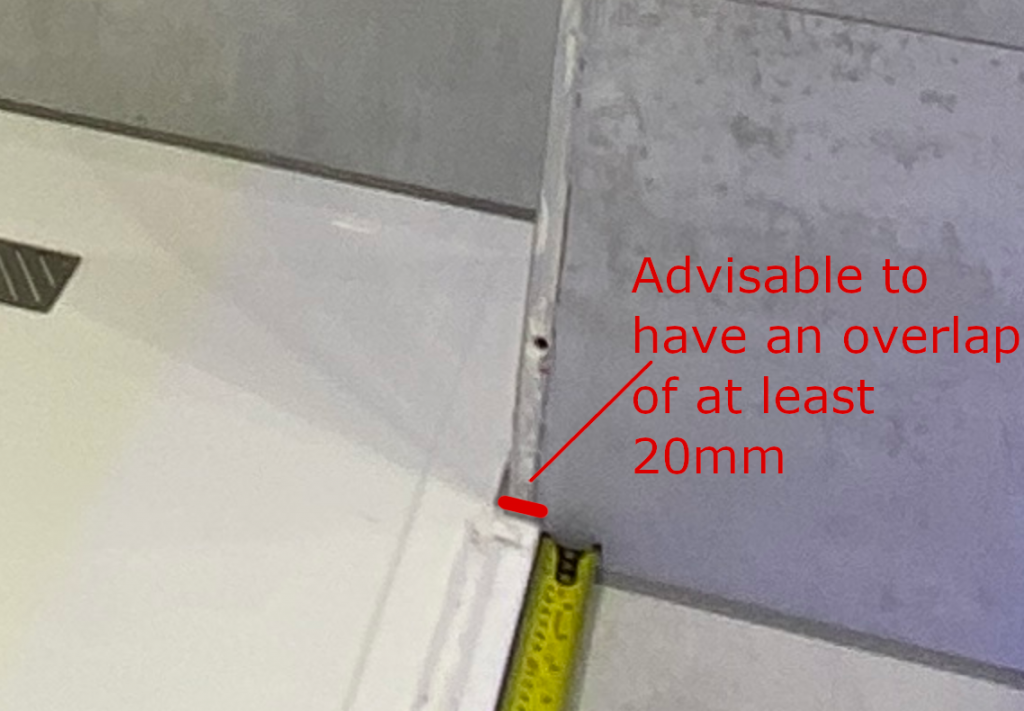 Are you walls not straight?
We can easily cut your class and polish the edges to fit any sloping walls, in fact most of doors we supply are made to fit either a sloping wall or a sloping ceiling.